Synchro Skin Glow Luminizing Fluid Foundation
这款质地轻盈的保湿粉底提供轻薄到中等的遮瑕效果,打造富有光泽的妆效。 广谱SPF 20
产品详情
/synchro-skin-glow-luminizing-fluid-foundation-0730852135390.html
订单金额满25美元可享受免费配送和免费试用装。
概述
产品描述
拥有持续一整天的自然、莹亮光泽。一款精致的保湿粉底,可全天持续改善肤质,让肌肤焕发无油光的水润光泽。Advanced Sensing高级感应科技可全天与肌肤色调和湿润度保持同步,打造完美肤色。随着明显细纹及毛孔粗大现象减少,肌肤变得清爽而美丽动人。可呈现光彩四溢的妆效及可塑的遮瑕效果,并具有类似精华素的空气感轻盈质地。
轻薄到中等遮瑕效果
呈现富有光泽且持久的妆效,和长达8小时的长效保湿。
Super Bio-Moisture Network可防止因干燥导致的不平整妆面,令肌肤光彩照人。
广谱SPF 20
(经过美国108名白人女性亲测)使用4周后:
83%的女性认为该粉底液可适应肌肤需要,最大程度地保持肌肤水分。
83%的女性认为该粉底液可以展现肌肤的自然光泽,呈现水润饱满的状态
肌肤类型:所有肤质。无致痘性。经皮肤科医师测试。
如何使用
充分摇匀。护肤后使用,从面部中间向外抹匀。多涂抹几层,直至达到理想的遮瑕效果。
主要成分
摩洛哥坚果油、蔓越莓籽油和柚子籽萃取精华具有保湿效果,并有助肌肤保持年轻、弹润。
野生百里香精华具有抗氧化功效。
如何使用
如何拥有莹亮美肌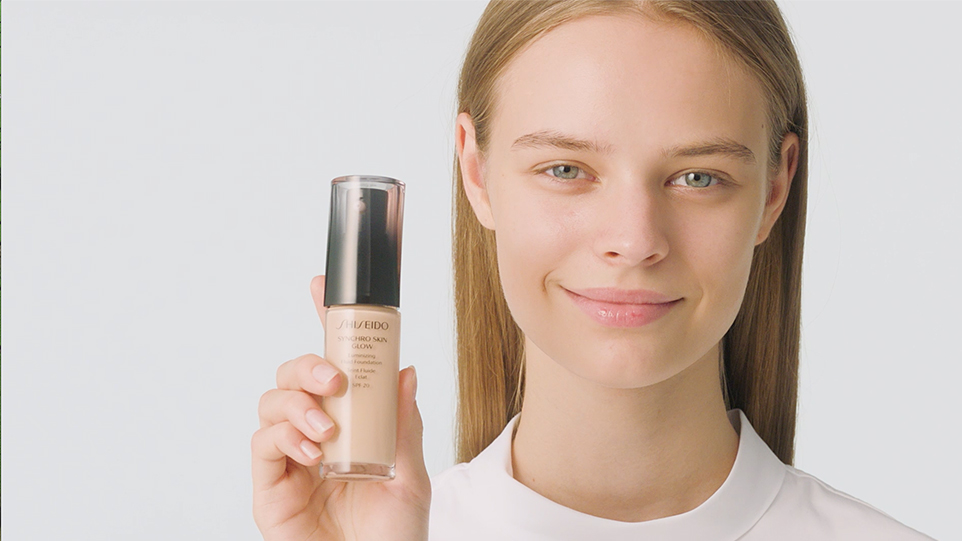 推荐
问题
Hi, I would like to learn what's the difference between shade Neutral 2 and Golden 2. Those foundation swatch recommended both to me. How I can differentiate which one is more suitable for me?
Hi Joan, Neutral 2 has a neutral undertone while Golden 2 has a warmer/ more yellow undertone. We recommend watching this video to help determine what your skin's undertone is: https://www.shiseido.com/how-to-find-your-skin-undertone.html.
发表日期:2018-02-16
Hi there I have used previously the sheer and perfect in i20.  Would you consider this to be a good replacement and which colour should I go for
Hi, Synchro Skin Glow Luminizing Fluid Foundation is a similar foundation to Sheer and Perfect Foundation, as it is sheer, provides a glowing finish, and is long-lasting. We recommend checking out the shade Neutral 2. We hope this helps!
发表日期:2018-02-16
I use the makeup lifting foundation I20, which color I need to use with your new coloring scale?
Hi Joyful, you will use Neutral 2.
发表日期:2018-02-01
Hello, I am a 55 in your perfecting stick concealer, which color would fit best with this foundation?
Thank you for contacting Shiseido. To choose the best foundation shade, we recommend either visiting your local Shiseido counter or store to be shade-matched, or using our online Foundation Finder: https://www.shiseido.com/foundation-finder.html#/. We recommend checking out Synchro Skin Glow Luminizing Fluid Foundation in the shades Neutral 4 and Golden 4.
发表日期:2018-01-31
I need to see the ocre color 040 please....
Hi Xime, you would use the shade Golden 3 in Synchro Skin Glow Luminizing Fluid Foundation.
发表日期:2018-01-31
I used to purchase a Shiseido fluid foundation and the color was called "12 - Natural light Ivory"  I don't see this on your website.  I'd like to continue using a fluid foundation... which of your colors matches closest to "12 - Natural light ivory"?
Hi Lydia, it sounds like shade Neutral 2 would be the closest match. We recommend using our Foundation Finder to find your perfect shade: https://www.shiseido.com/foundation-finder.html#/.
发表日期:2018-01-22
I am a fan of your Sheer & Perfect Foundation.  I understand this is discontinued.  What would you suggest as a replacement product?  I have mature but oily skin.  Colour is O40.
Hello, we recommend checking out Synchro Skin Lasting Liquid Foundation in the shade Golden 3. Keep in mind that this foundation provides more coverage than Sheer & Perfect Foundation did.
发表日期:2018-01-02
Hello. Im a I40 for the Sheer and Perfect Foundation. Which shade would be for me? Thanks
Hello, you would use Neutral 3 in this foundation!
发表日期:2017-12-27
bvseo_sdk, dw_cartridge, 16.1.1, p_sdk_3.2.0
CLOUD, getContent, 17ms
questions, product
评价
Synchro Skin Glow Luminizing Fluid Foundation
评分: /
5
评论者
6
.
评分:

5

/

5
评论者
maryspy
来自
perfect match with my skin tone. very natural finish. feels lightweight on my face. flawless result. i love it!!! worth the money.
发表日期:2017-11-15
评分:

1

/

5
评论者
Spike9
来自
Terrible
It was runny, very minimal coverage,it would only be good for a 22 year old with perfect skin,now I'm stuck with it!
发表日期:2017-07-30
评分:

4

/

5
评论者
Deb
来自
Good color match
I'm someone who doesn't like spending a lot of money on foundations because you pay a lot for such a little amount especially if you are someone who wears a full face makeup daily. I always had trouble finding a foundation that matches my skin tone. Around this time last year, I went in stores and tried to find a match and the lady recommended the original synchro skin in the shade neutral 3. The color was fine when applied indoors but once I saw my face in natural lighting, it was a major fail. Considering how much I spent on it, I just tried to use it all up. I saw that they came out with a new skin glow foundation, which is better since I have dry skin. Since neutral 3 was somewhat similar to my skin tone (it was just too pink for me), I opted for golden 3. The color is probably the best match I have found so far that matches my neck and chest as well. Only problem I have with this foundation is that I wish it provided a little more coverage due to my acne. I feel as if I am wasting more product trying to cover my acne, but even then it still does not cover fully.
发表日期:2017-06-26
评分:

5

/

5
评论者
Kathy Lu
来自
Excellent Product!
This product is the best foundation I've ever used. I often pair this liquid foundation with Shiseido's Sheer and Perfect compact foundation to provide a long lasting, natural look.
发表日期:2017-05-13
评分:

5

/

5
评论者
Itybeth
来自
Absolutely In Love!
If you are on the fence about this one, JUMP! I was nervous ordering foundation online, but I tried to choose based on my base coloring (I have red tones) and ladies, this foundation is PERFECT! It only takes a small amount and my skin is luminescent the ENTIRE day! Totally worth the price tag!
发表日期:2017-05-09
评分:

5

/

5
评论者
Dea66
来自
I love this foundation!
feels moisturizing, gives a nice, natural, dewy look.
发表日期:2017-03-02
bvseo_sdk, dw_cartridge, 16.1.1, p_sdk_3.2.0
CLOUD, getContent, 17ms
评价,产品